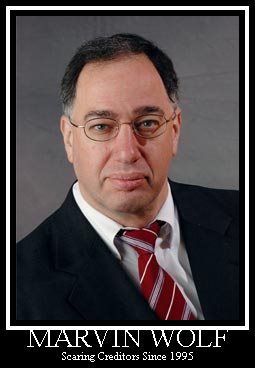 Rochelle Park, NJ—"Bankruptcy law is not something at attorney can just jump into — bankruptcy law is a deceptively complex field that is becoming more complex with time," Marvin Wolf, a bankruptcy attorney, told laws.com in a recent interview.
For Wolf, entering into this complex profession began in a big law firm.  "I chose bankruptcy law because of a desire to help people.  That law firm did more creditor representation work, whereas I ended up on the debtor side of the practice.  I like that there's never a quiet moment and the law is constantly developing.  There is always a new surprise, and the jurisdictions often treat the same law in different ways, which is unique for something that is characterized as federal law.  There is a constant battle between creditor attorneys and debtor attorneys.  It keeps you on your toes."
In his years as a bankruptcy attorney, Wolf has seen a number of changes —not all of them beneficial to the consumer.  "In the so-called reforms of 2005, right-wing corporations took charge of Congress," he says.  "Those reforms were not written by Congress – they were actually written by big business with the goal of making bankruptcy more difficult as a remedy for debtors.  The new law included elimination of some statutory breaks for debtors that were recharacterized as "loopholes", and added new obstacles such as random audits and the means test.   As a result, cases have become more complicated, and filing for bankruptcy has become a more expensive proposition. Credit card companies had a goal of making bankruptcy unavailable for the average client.  Fortunately, debtor attorneys were able to find new workarounds and tactics to help debtors in need."
Even some well-intentioned reforms can backfire, according to Wolf.  "One of the "reforms" instituted by BAPCPA (the 2005 Bankruptcy Act) was a mandatory credit counseling class requirement as a prerequisite to filing bankruptcy.  The problem is that the providers of these classes often aren't that well trained, or have an anti-bankruptcy bias."  He notes that in many of the classes, filers must create a debt management plan with their counselor, and that these plans frequently produce inaccurate and unrealistic budgets.
One of the fastest growing debt segments in the American economy is student loan debt, and Wolf believes that bankruptcy law needs significant reform to help students who are in over their heads.  "It's the next bubble to burst.  I visit Congress every year, as a constituent and as a State Chair of NACBA [National Association of Consumer Bankruptcy Attorneys], and I feel these loans should be dischargeable in bankruptcy.  However, I also think they should close down half the colleges, because there are not enough jobs for all of their graduates to fill.  When a school produces a graduate with a high loan to pay off and no prospects for employment to pay off that loan, and with no means to ever discharge the loan, it creates a form of financial slavery.   This is unfair to the average student and also devastates the finances of parents, who are often co-signers on the loans."
Students experience numerous problems when trying to do the right thing financially, according to Wolf.  "The recordkeeping for Sallie Mae is horrific.  Colleges exaggerate the importance of a college degree or offer degrees that don't lead to sufficient meaningful employment when compared with the ultimate debt load.   Large schools treat student loans as a profit center, sometimes pushing loans from Sallie Mae rather than alternatives."  Wolf believes that in this economy, many students would be better served by going into trades and building skills instead of going to college.  "Choose a job that can't get outsourced."
Today, Wolf says consumers are also facing increased problems with unfair debt collection practices.  "Creditors threaten jail sentences, harass employers and relatives, suggest token payments to extend the statute of limitations on old debts, and claim they only use direct wire transfer, which requires a debtor to send all their bank account information—once provided, they sometimes drain the account or cause it to be overdrawn."
Many of these practices are prohibited by law, Wolf, says, including "scams out there in which creditors harass people after they've filed for bankruptcy."  After a consumer has filed, creditors are supposed to stop contacting the consumer regarding the debt and must direct any communication toward the attorney.  To avoid fear-based debt collection scams, Wolf recommends keeping a written log of what was said, and saving all communications, so that a bankruptcy attorney can make sure the creditors have stayed within the bounds of the law.
In the new economy, Wolf says that staying afloat is not just a matter of doing the basics, such as spending within your means and paying with cash—though those help, too.  "Ask yourself: what happens if I lose my job tomorrow?  What can I do, and where can I do it?"  Wolf suggests having a "financial 'go bag'—ask yourself what skills you have, where you can go, and what you can do with those skills.  Pay attention to the writing on the wall, and even be ready to change careers.  Getting trained and certified for a particular job can be relatively quick and cheap sometimes.  Also, it's easier to find a job while you still have one."
When consumers need to file for bankruptcy, Wolf says it's important to be completely honest with their lawyers—and not to find the cheapest attorney on Craigslist.  This could end up costing more in the long run because newer practitioners can make expensive mistakes by filing incorrect petitions.  "Don't be afraid to tell your lawyer the truth or leave anything out."  He also recommends you consult an attorney earlier in the process.  Wolf likes to recite what he calls Wolf's Law Number One:  "Your legal rights are like a block of ice: if you sit on them, they melt away.  A case becomes more expensive the longer you wait.  Treat a financial problem as if it's cancer: the sooner you get to treating it, the better the long-term prognosis."
Marvin Wolf is a bankruptcy and debt relief attorney in Rochelle Park, NJ.
Comments
comments